My no build van build has gone through many changes over my years as a nomad traveler.
I travel in a mini-van. I know, it sounds a bit extreme but I get to travel all around the country!
The back seats were taken out to make the living space, I kept the passenger seat. There is nothing "built in" to the van itself to convert it. I love the simplicity and easy maintenance of this type of no build van build!
When I first started out, my son in law had built a wooden bed frame and wooden shelves, which are shown further down in this post. Now the bed is just a piece of plywood over my storage bins, an idea I got from another nomad. The bins easily slide out.
If you want to see me living authentic van life, click on this interview of me and my no build van by Joni from TheGalavan. It's the "real me," no fancy set up, desert dirt and dust included!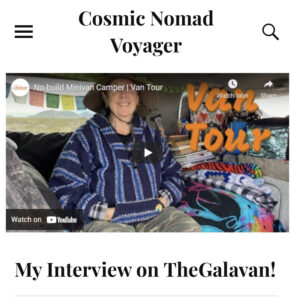 Here's a quick peek at the evolution of my no build van build, from 2017 to now.
This is the current bed space in my no build ban build. I make the bed every day to keep the space feeling tidy. There is a "fung shui" to van organization, I call it, Van Shui.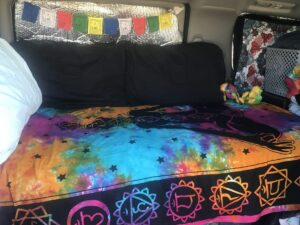 My current storage in the back are these inexpensive plastic drawers that replaced the many bins! They hold my pantry and other items you'd find in any home. I set up a small outside kitchen when I'm parked, which saves room in the van. I love this system!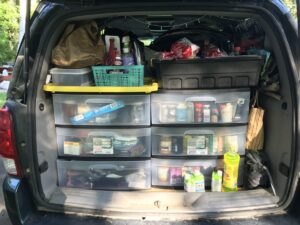 Clothes get folded into compact rectangles, a Marie Condo method of organizing. Most of my wardrobe fits in one bin under the bed.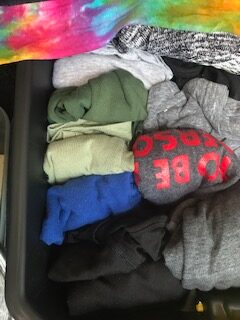 This is an early rendition of the back of my van, in 2017.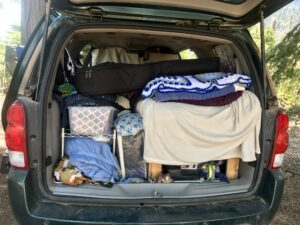 Bins, bins, bins. They did the job, but I was constantly moving them around to get to my items.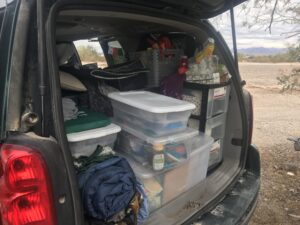 More bins!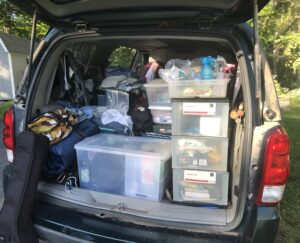 This was the inside of my van in 2017. The wooden shelves are in back of the bed, and you can see the wooden bed frame. The wood added a lot of weight to the van!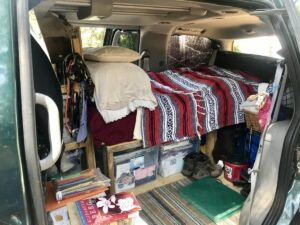 More bins, with my guitar on top. I was constantly trying to figure out how to get organized.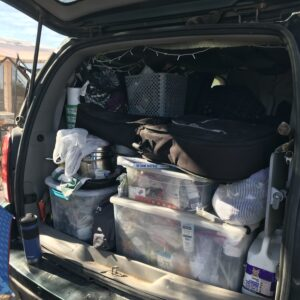 Here's a look at the wooden shelves. I had a long shelf liner as a "door" that had to be secured for driving so the contents stayed put.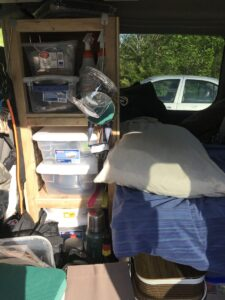 What a mess! It didn't always look like this but before I had a good routine, things would get very disorganized. It drove me nuts!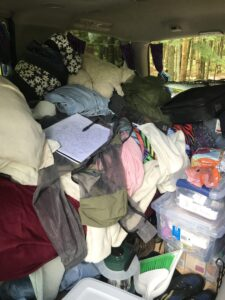 Here's another way I had things organized in the back of the van.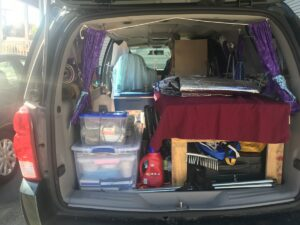 The tapestry over the bed lasted one night. On my first night out I had claustrophobia, which I'd never experienced before! The tapestry came down the next day! When I took the bed frame out, I gained some head room. Before that I couldn't sit up straight in the bed!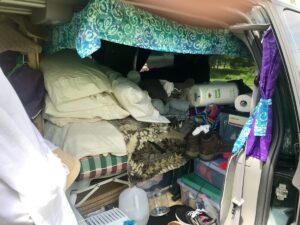 The bare bones in 2017 before I started loading the van.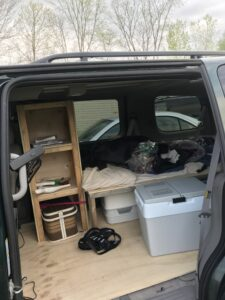 My first bed was a Coleman cot, it was so flimsy it didn't even last to my launch day.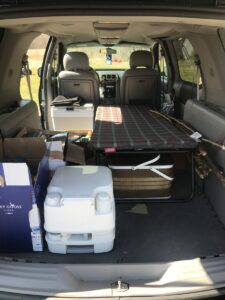 Here's the floor! An 8 X 4 piece of plywood fits almost perfectly! I use throw rugs to cover it and replace them when they get dirty. Simple and easy!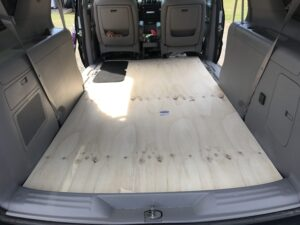 This is the bed frame. I didn't realize how much weight I'd be taking on, and when the bed and shelving was removed a few years ago, it was like driving a different vehicle!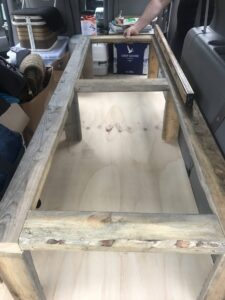 The finished bed. You can see how heavy it was. I don't miss it and I have more room without it!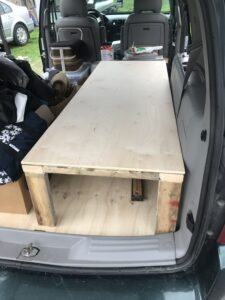 Since starting out I've tried to personalize my little space.
I love the Ganesh image on my curtains, representing overcoming obstacles!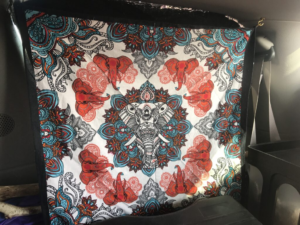 The raven guides my way.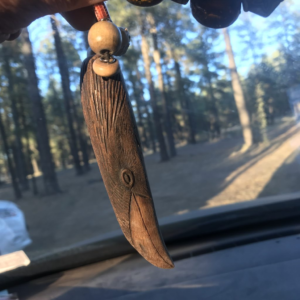 I'm cozy and happy inside my tiny home! I've learned how to thrive in such a small space and how to stay organized. Sure, there are times I'd love a little more space, but the minimalism of a no build van build in small vehicle gives me more time and money to explore the world!