I travel cross country in my van for free every year, without paying for one motel! I drive from Arizona to New York State in the Spring, and reverse in the Fall, because my entire family lives on the East Coast!
My partner Nancy travels with me, both in our own vans. After doing it together 8 times, we have the routine down!
To travel cross country for free we do overnights at Pilot Trucks stops, or Cracker Barrel restaurants. Both businesses, with rare exceptions, have no problems with overnighters in their parking lots. Since we're already all set up to sleep in our camper vans, it's a win!
Here's how our Fall trip went this year.
Day One.
Granville NY to Cicero NY.
When do we leave???
So excited to finally get back on the road and to the warm dry climate of the Southwest!
Our first free overnight is in the parking lot of a Cracker Barrel in Cicero, NY. It's quiet and clean, and a traditional first stop for our cross country travel.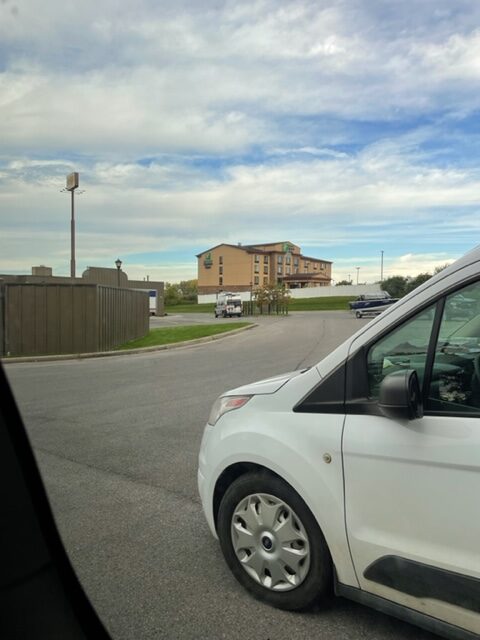 I'm emotional leaving my family, but after the humid rainy swamp of upstate NY I can't wait to dry my bones out in the southwest.
I've spent days organizing the van for travel. Why does it always take so much longer than planned to pack up?!
Day Two.
From Cicero NY to a Pilot truck stop in Austinburgh OH.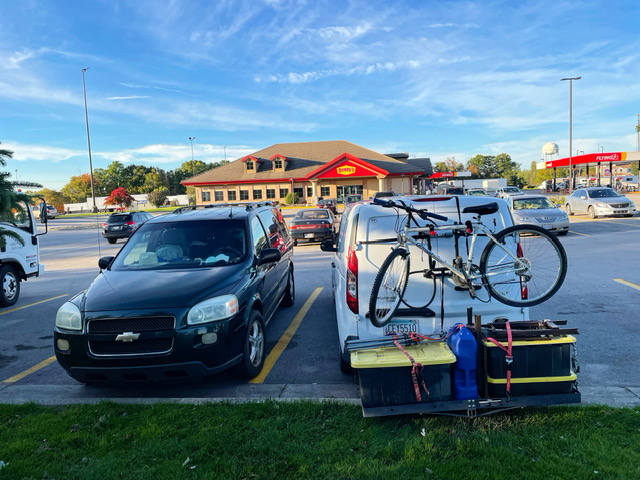 Oh yeah, we got this. I love driving down the highway, getting philosophical about nomad life, listening to the tunes!
The second day is four hours driving time, with multiple pee stops for us and Mr. P, Nancy's chihuahua!
Organization is a challenge on the road. Every night I move stuff from the back to the front so I can sleep in my bed, and vice versa in the morning. The "van shuffle" is a small price to pay when you travel cross country for free!
There's already vans and RVs pulled in to the truck stop, so we're in good company!
Day 3.
Austinburgh OH To Eaton Ohio.
We're in the flow! Everything is going great.
Another free overnight at a Pilot Truck stop.
It was a beautiful day for traveling, sunny, low 70's and DRY!
I love the feeling of driving down the highway, the passing landscapes, the fellow travelers, my morning coffee on board.
Nancy and I contemplated that nomad life is in our DNA, after all, humans were natural nomads. We migrated around the Earth and moved with the seasons.
Helpful Travel Aids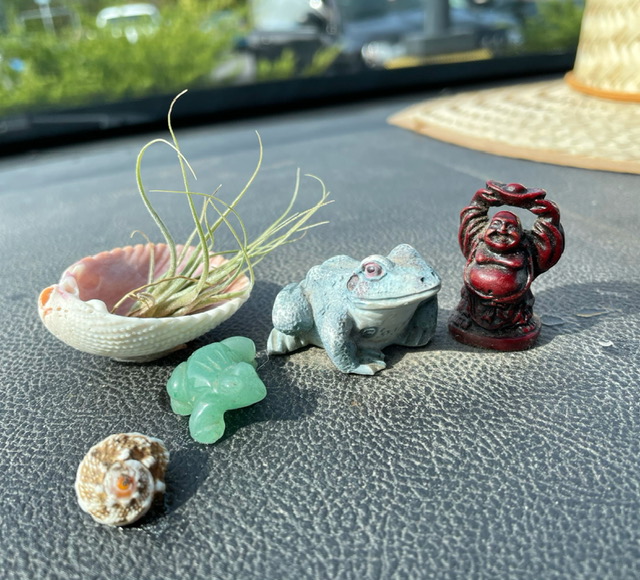 I keep snacks up front, usually trail mix, beef jerky, and candy. Sugar is a miracle for brain energy when the highway gets monotonous! I have a spray bottle of lavender and peppermint that keeps me relaxed and awake. Water bottle within reach. Nancy turned me on to some homeopathic eye drops for eye fatigue that I swear help me feel more alert. (TRP for Eye fatigue)
For nomads that travel cross country for free, Truck Stops like Pilot are the best! They usually have good coffee, fairly clean rest rooms, all kinds of snack food, and showers! Most have a Subway or something similar, and some have Denny's restaurants.
After breakfast in our vans, we review the next travel leg, gas up the vans and we're on our way!
Dinner is no-prep meals like ham and cheese sandwiches, fresh fruit, hummus and pita, avocados for guacamole, tuna packets, crackers and cheese. We sometimes treat ourselves to a Denny's at the truck stops. On tiring days it's well worth the money.
The best paid weather app I've used for cross country travel is DriveWeather. Put the route in and it gives a forecast for each day on the route. I love it!
Day Four!
Eaton Oh to Troy Il.
Starting to feel a little road weary. The road keeps on moving behind my eyes when I close them at night.
We're in Troy Il, at a … you guessed it … Pilot Truck stop. Their new coffee, called extreme energy, is now my favorite on my travel cross country!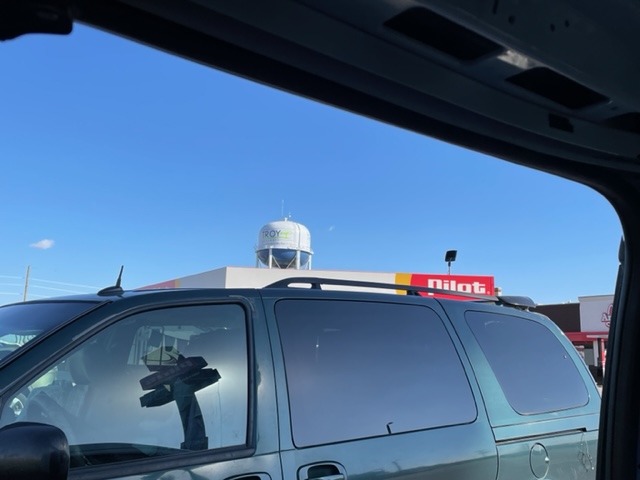 We drove out of a rain storm this morning. The rest of the day was perfect and sunny!
On the radio today was only country, classic rock or Christian. No NPR available. It's easy to tell the politics of an area from the radio stations!
The light is changing, the sun is warmer and brighter, it feels so good getting out of the damp Northeast.
The truckers are aggressive here! I almost got run off the road TWICE! One trucker in the outside lane suddenly realized he had to exit across three lanes … with me in the middle lane in his way! It was a sharp swerve into the right lane to avoid him … there must have been an angel watching over me because there wasn't a car in my path!
The second one just plowed over into my lane … good thing I've gotten into the habit of being a defensive driver around the truckers!
Day five
What day is this? How many days have I been driving? Where am I? Who am I????
We've been driving 5 days! The routine: Get up, have coffee, gas up, drive to next stop. Have dinner, cuddle, go to sleep. Wake up, repeat.
Today we looped around St. Louis. St Louis makes no sense! The engineering of the loops and exits and ramps is maddening. A few years back Nancy and I got separated at one of the nonsensical ramps. We both got lost! I was somewhere near the arches, and Nancy was in a not great part of town. It was traumatic for both of us!!!
Now we plan a BIG loop around the city. Tomorrow we'll be on i40! We always feel closer to home when we hit the 40!
There's a Denny's in this truck stop, oh yeah!!! There's a limit to how many times I can eat hummus for dinner!
Day 6.
I no longer know what day it is. Or what time it is. Or where I am.
Am I on planet earth? What part of the country am I driving through?
It might rain. It might not. I don't know.
Another trucker tried to run me over. That makes 3.
Today is happy hour at the Flying J Truck Stop in Edmond OK, courtesy of Jack Daniels.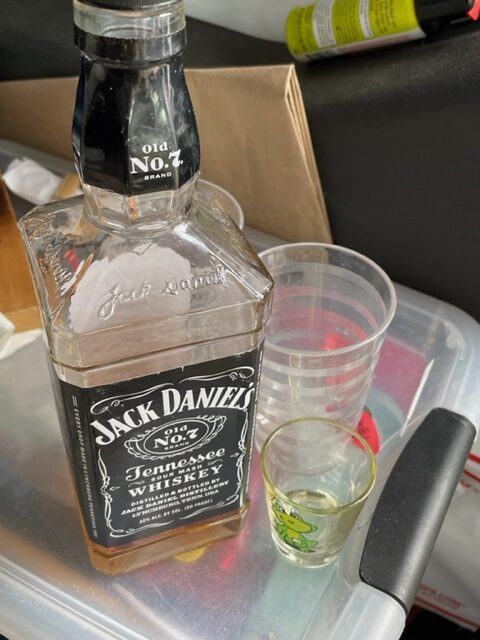 Day 7.
How did I get here? Have I really been driving for 7 days??? It's all a blur!
Made it to Amarillo Texas.
Today is Sunday and the traffic was light, a less stressful drive. Thank the road gods and goddesses!
Tomorrow we'll be in New Mexico and settling in for a few days! AHHHHHH. The life of a nomad!
Day 8
Elation! Jubilation! Celebration!
Made it to our first camping spot, Santa Rosa Lake State Park in New Mexico! It's absolutely gorgeous here, perfect weather, sunny and dry!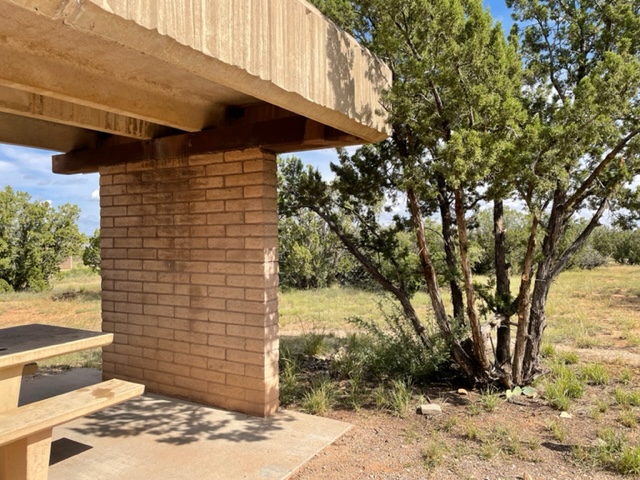 We made it!
It's all somewhat of a blur, but we traveled cross country for free!
We made it!
I'll be seeing the highway behind my eyes for days, but WE MADE IT!!!!