Ok, I'm no expert on Feng Shui. I had a little book on it years ago, and Feng Shui'd my apartment. I don't know all the rules, but I know how it feels.
From this article about Feng Shui, "Feng shui is … the art of placement—understanding how the placement of yourself and objects within a space affects your life in various areas of experience. It … teaches you how to balance and harmonize with the energies in any given space—be it a home, office, or garden. Its aim is to assure good fortune for the people inhabiting a space."
We Nomads Need Feng Shui In Our Tiny Living Spaces!
Simplified principles of Feng Shui include:
Minimizing Clutter.
Improving Energy Flow.
Adding Positive Elements.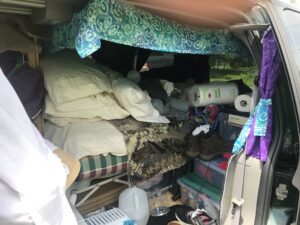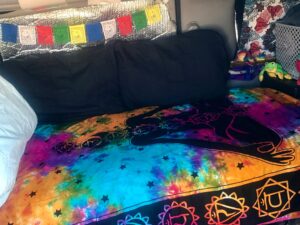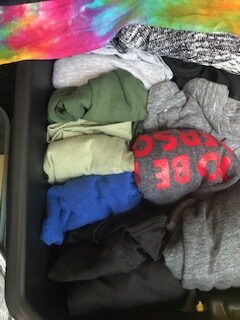 I've found minimizing is a necessity to feel good in the van. Marie Kondo, the current star of minimizing, says, "tidy your space, transform your life."
Now that I've Marie Kondo'd my clothes, I can fit most of my wardrobe in a 10 gallon bin! (25 3/4″ x 18 3/8″ x 7 1/4″)
I haven't read her book, but my daughter taught me how to fold my clothes in rectangles ala Marie Kondo!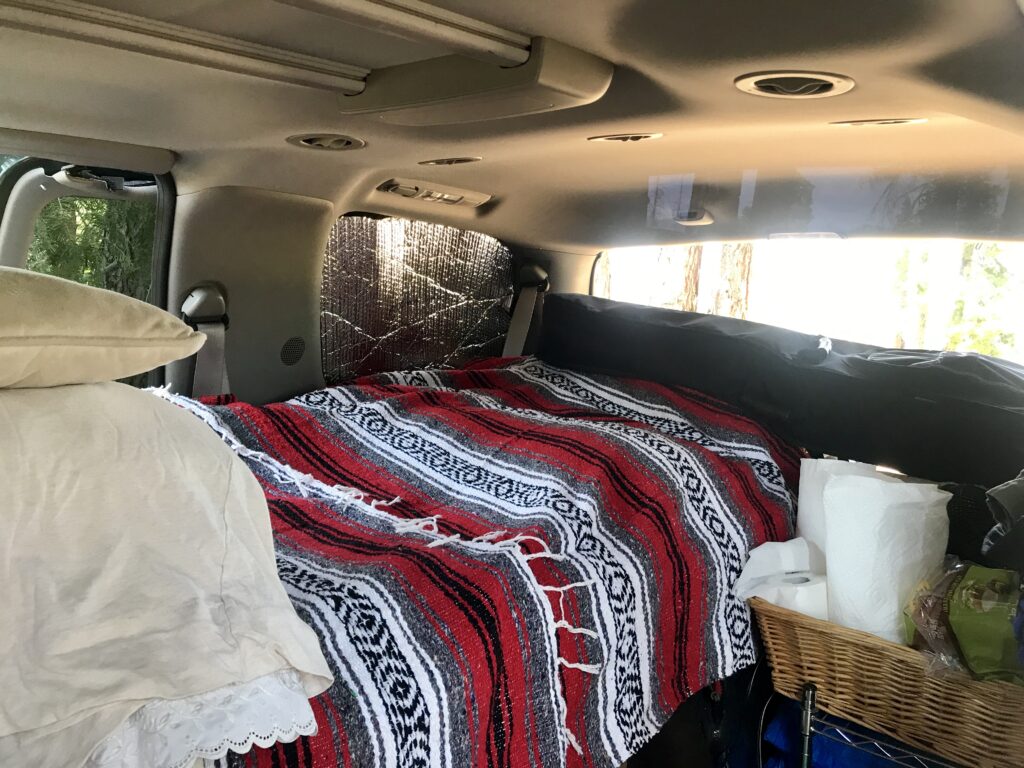 I've been on the road two years now, and at first I had curtains, and a tapestry on the ceiling above the bed. They were pretty but proved problematic right from the get-go … the curtains just got in my way and the tapestry made me claustrophobic! I ended up going for strictly utilitarian function in the van, but lately I've been craving more self-expression and beauty in the van.
I needed a better flow of energy in that little space!
I started by finding mini prayer flags that fit perfectly on my side window. They're a reminder to me of my spiritual life, which is mostly defined as universe lover, Nature Lover, Tree lover, Meditator.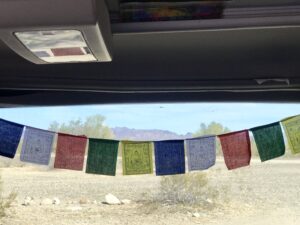 I wanted psychedelic pillow cases, but they were too $$$ for my needs. I bought some cheapie cases when I had the rest of the van "redecorated."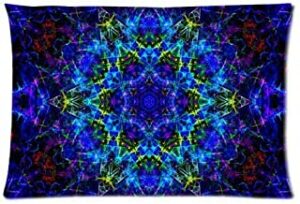 Anyone living in a van, especially if it's small like my but traditional, knows the bed is the centerpiece, but traditional bed covers were either too big, too expensive, or just too ugly.
Hah! I'm living a non-traditional life, so I came up with a non-traditional solution.
I remembered there was a place in town selling really cool tapestries for a price that was more reasonable than a bed set!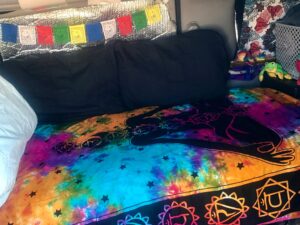 For me, how a space makes me feel is Feng Shui. Optimal functioning in my small space is paramount to feeling good there.
Important Feng Shui In The Van.
Keeping things in the same place. It's unbelievably easy to lose things in a van!
Being able to find things quickly and easily, within a few seconds.
Everything in it's place determined by how often it's used and when I need to reach it. (For example: Flashlights in easy reach when I'm in bed at night.)
Eliminating clutter is important in Feng Shui, and I was determined to find ways to organize the "cluttery" things in my van like spray bottles, sun screen, flashlights. I found a cheap storage cube at the Family dollar that I couldn't resist. WITH SEQUINS. Once in a while I can't resist a little bling. 🙂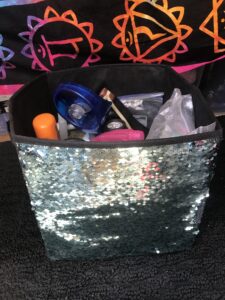 Something else that was driving me crazy was having clothes piled up around the van. Nomads will get this … clothes that aren't quite dirty enough to go in the laundry bag … a pair of jeans I wear only to "go out," a few hoodies I rotate through depending on my mood, and my pjs. My clothes are stored in the bin under the bed, but I don't want to dig around under there every day!
I found another perfect storage cube to keep it all in one place!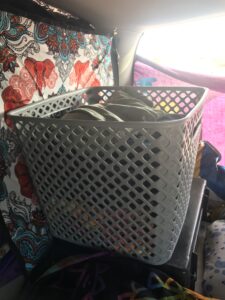 I bought a new black throw rug and put a plastic shower mat over it to catch any midnight spills when I'm half awake trying to hit the bucket – if you know what I mean.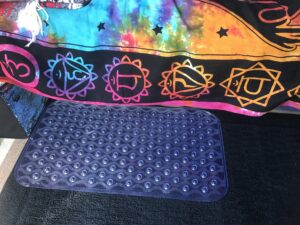 The last thing I did was put "curtains" back up in the back windows. I realized I had two cool Ganesh bandanas … how perfect is that for a nomad! Ganesh is the Hindu God of removing obstacles, among other attributes!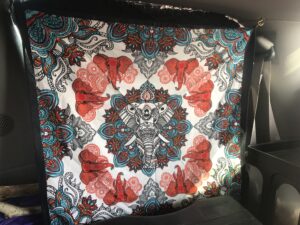 It feels better in the van, I have the same amount of "stuff", but it's organized so the energy flows in a way that makes me feel good.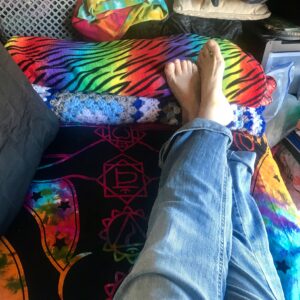 I am SO HAPPY with my van right now. This past year I've taken out wooden shelves, removed the platform from the bed and lowered it, and now updated the decor. With the recent reorganizing, I now have more OPEN SPACE in the van, allowing more good energy to flow!