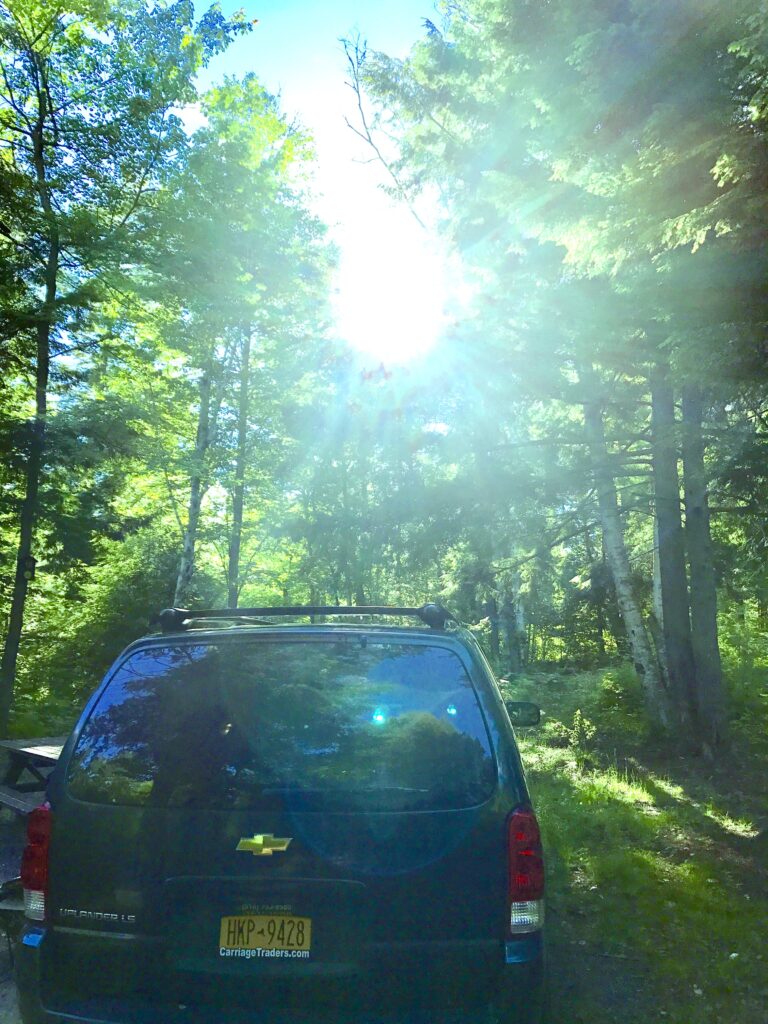 I have an ugly van build for nomad travel. I admit it. It's not cute, definitely not Instagram worthy. You know what though? My mini-van, A.K.A. the Green Beastie, has transported me to some pretty spectacular places! It's filled with everything I need out on the road.
Recently I've had some requests to share practical info about my nomadic journey. It seemed there was so many "how-to" videos and blogs already out there on the interwebs that mine was redundant, but here 'ya go.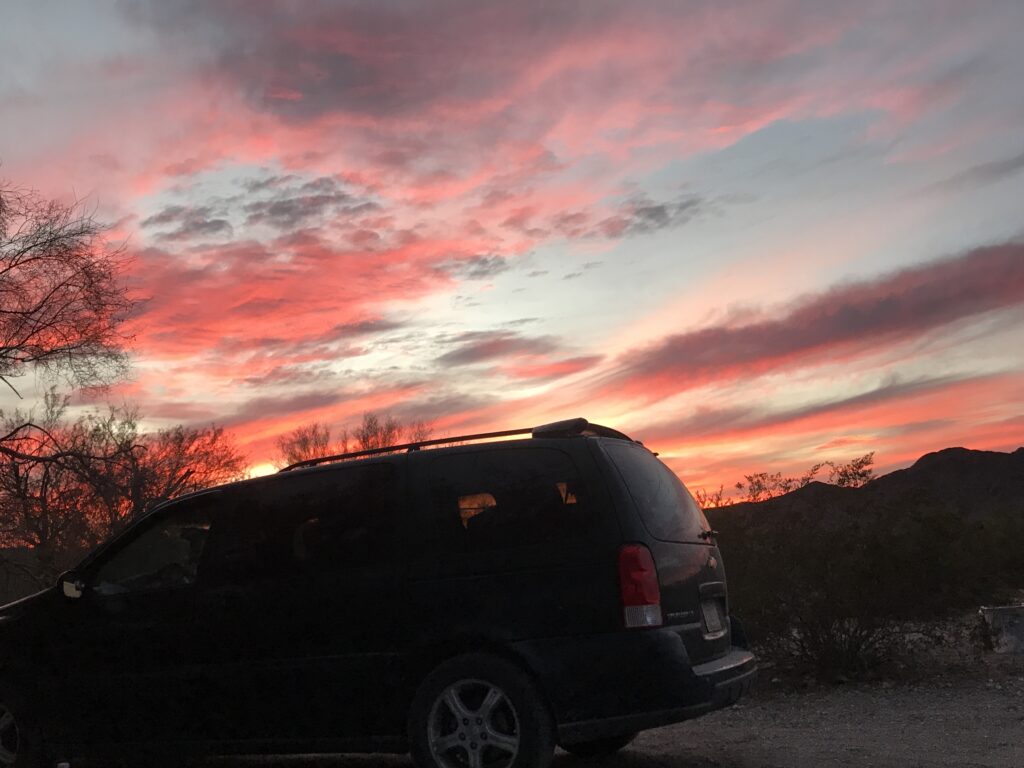 I love pics of the "cute" van builds, but they look just a little too perfect sometimes. Where is all your STUFF? Are you really building a van for full-time living? Or is it just to impress people? A cutsie van isn't necessarily the home of someone living successfully as a nomad. Like most newbie nomads, I'd watched countless videos on van builds, and it's not the UGLY VAN BUILDS that get featured! I compared my van build a LOT in the beginning to other more put together looking builds, but now I'm just happy that I've found my groove.
The Short Story Of Nomad Travel In My Ugly Van Build
I've been traveling full-time in a a 2005 Chevy Uplander since June of 2017. Following a deep urge to get on the road, I bought it to convert to a full-time mini-camper. My son-in-law did the carpentry work, the rest was pretty simple.
First, we took both rows of back seats out. I don't have stow-n-go seats, so once we took out the storage deck, I had a nice flat surface for the floor.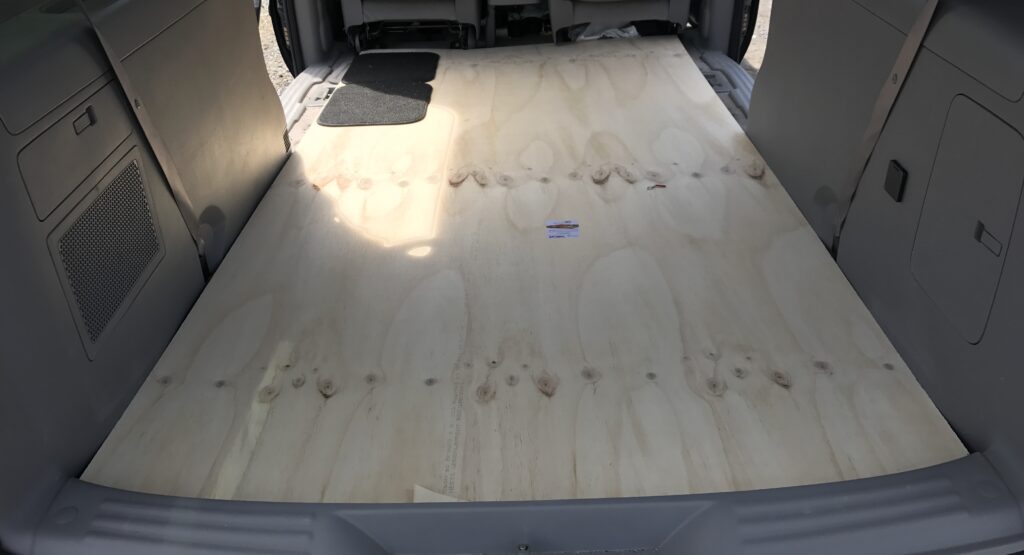 One 4′ x 8′ piece of plywood slid right into the van over the existing floor and rugs. With a few little cuts at the end, it fit perfectly. I put some dollar store throw rugs over it, and boom, floor done.
How Everything Fits In A Mini-Van
I've ruthlessly downsized my wardrobe until it all fits into one 50 quart bin, and that, along with three other bins, slides under my bed. I use other bins of various sizes for more storage in the van. Some of my belongings like essential oils, hygiene items, crafts, and everyday use items go in a 3 drawer cart. If you're really interested in the picky little details, click here for a detailed list of what's in my van. (For an updated look at storage in the van, go here.)
Nancy and I set up an outdoor kitchen in our Clam shelter, which is an easy up screen shelter. It's mainly for pesky insects like the bees that literally stole chicken right off our plates in the Coconino Forest in Flagstaff, AZ!
In the screen shelter are two tables for the stove, meal prep and clean up. When I started out solo, all of my foodstuffs and utensils were stored in the van, now with a combined kitchen for two, we have two big bins for dry food and cooking utensils. The bins stay outside, and when we're traveling they go on the cargo hitch on Nancy's van. Neither one of us cook in our vans.
Nomads On The Move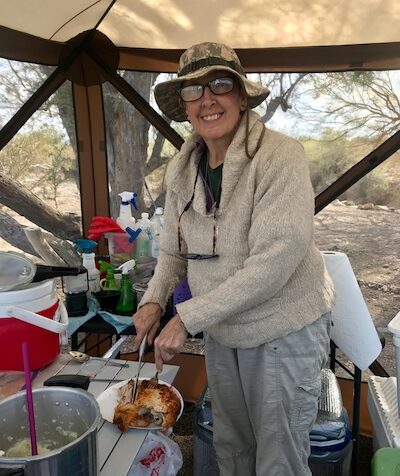 We can set up camp, including the Clam shelter, the kitchen and the little tent, in under 2 hours. Same for breaking camp. The cargo hitch takes the two big kitchen bins, and other small items for traveling, the rest we throw into our vehicles. We usually get to our next destination the same day we break camp, so we don't have to worry too much about how things get packed. We did have to reorganize our vans to travel cross country comfortably with all the crap thrown in the vans. (Update: I got of the Clam Screen shelter! Now it takes me as little as half an hour to pack up camp!)
Freedom to Move
Moving camp is pretty simple. Most of the places we stay we've learned about from other nomads, and we've also used the website Freecampsites.net. We move every two weeks when we're in National Forests or BLM land in the Southwest. (BLM is thousands of acres of public land managed by the Bureau of Land Management/U.S. Department of the Interior.) We've done long stints at the LTVA's in Quartzsite, Arizona, a spectacular deal at $180 for 7 months, and provides vault toilets, water and trash removal. Staying in one place for that long is convenient, but it's starting to get boring for us so we may not do it again for a while. (LTVA is the Long Term Visitor Area.)
There are plenty of free places to camp, especially in the Southwest. We did make it out to the Pacific coast last year and stealth camped in Morro Bay, CA, and up to the Sequoia National Forest. This year we traveled cross country to NY state and will soon be camping in the beautiful state forest of the Adirondack Mountains!
The Evolution Of The Green Beastie
Here's one of the very first ideas I had for the van: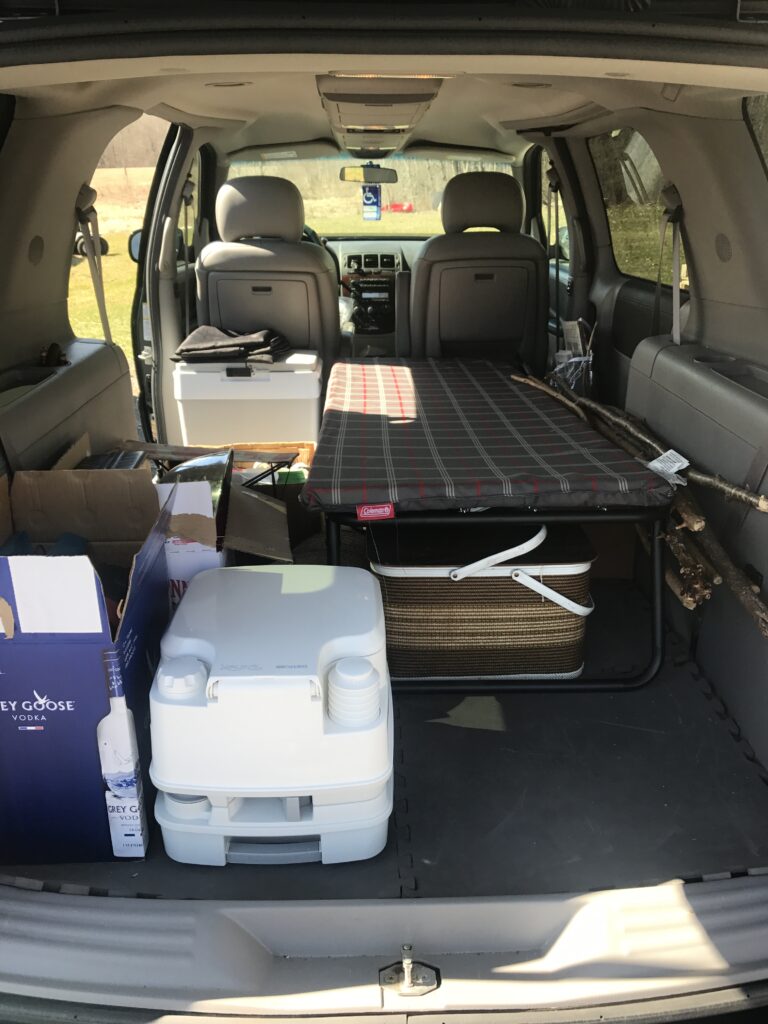 The cot didn't hold up long enough for me to even get on the road, so my son-in-law made me a platform bed. It was 72″ long and 24″ wide.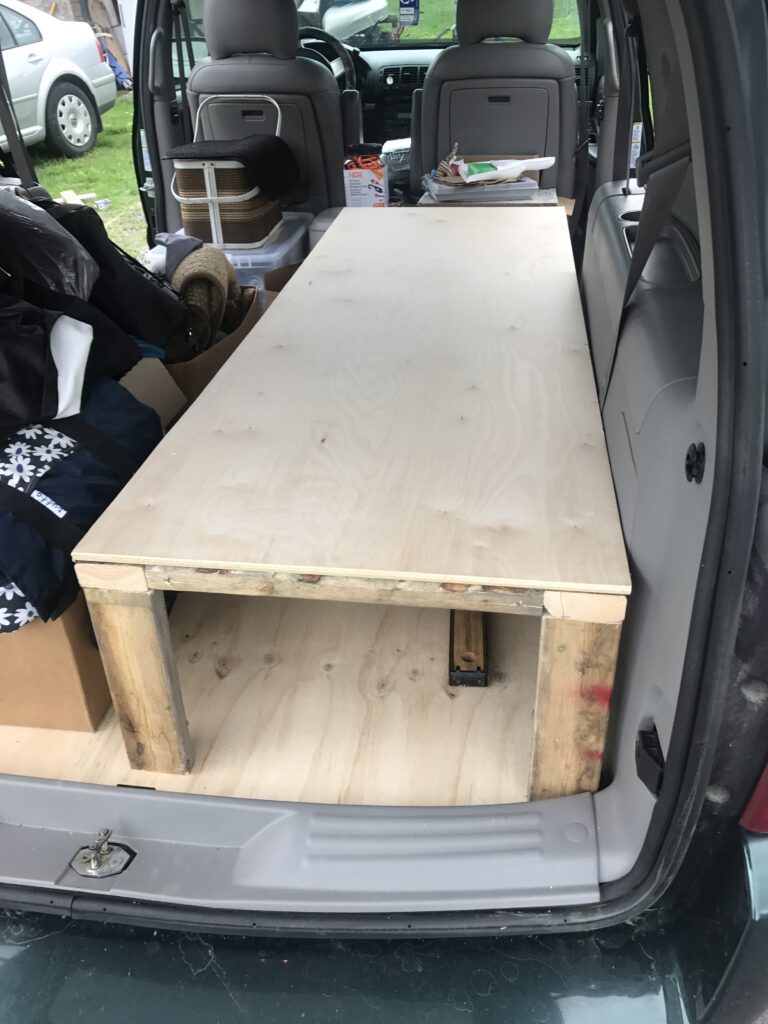 He also made me a wooden shelf, which I've since removed.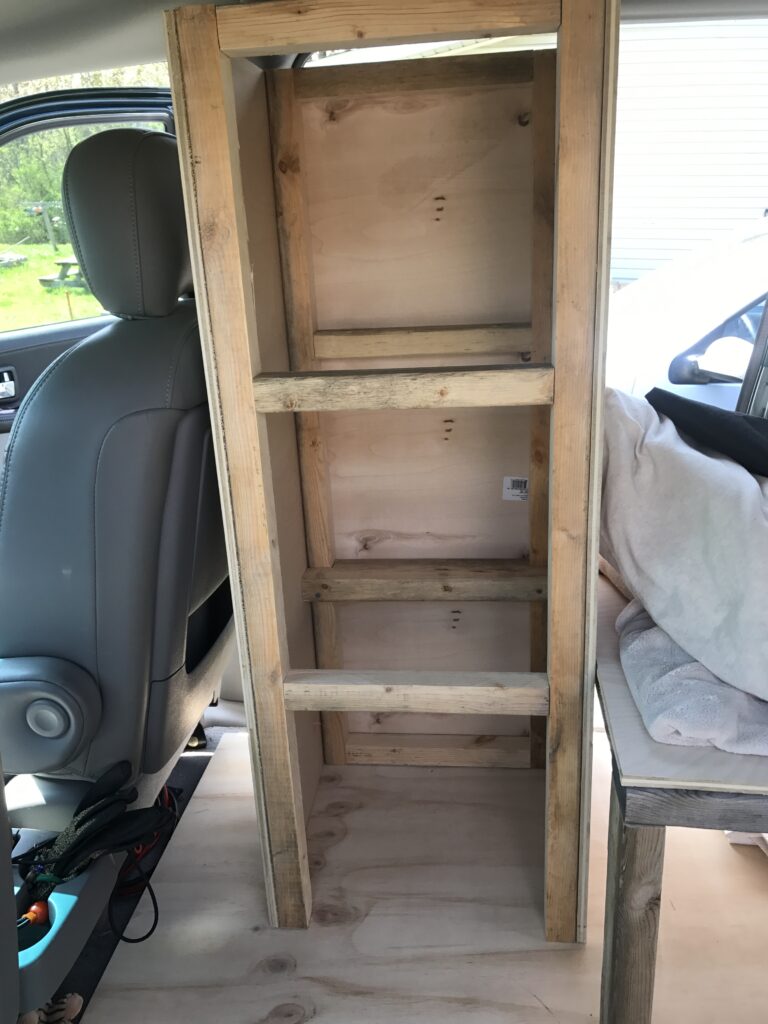 Here's the bare bones before I loaded up, circa Spring 2017.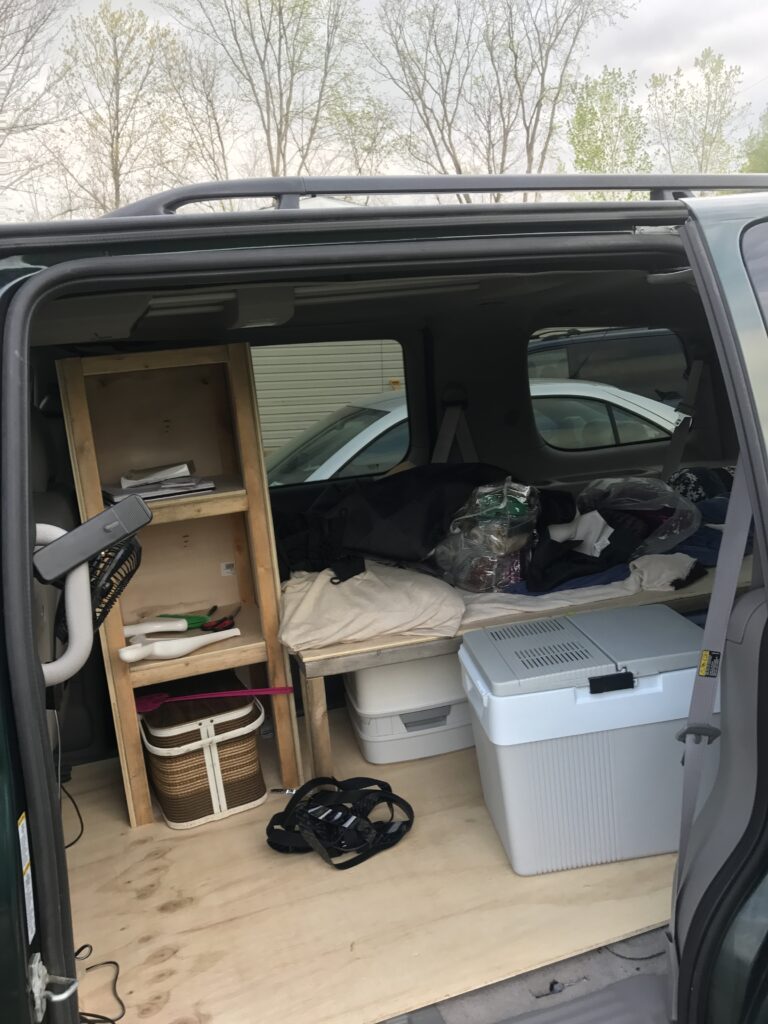 And here's what it looked like the day of my launch. What a mess! Notice the tapestry above the bed, and the purple curtains. Both got removed pretty quickly … the tapestry made me claustrophobic and the curtains made me swear like a motherf**ker when they got in the way of putting reflectix in the windows.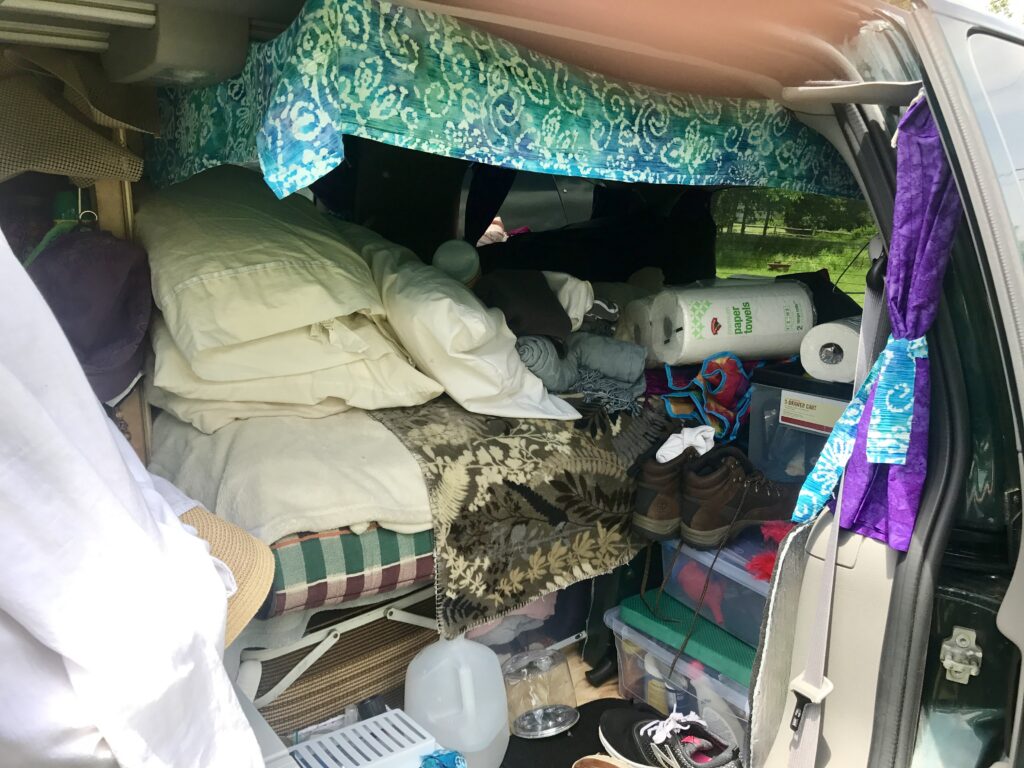 Back views of the van. Always changing!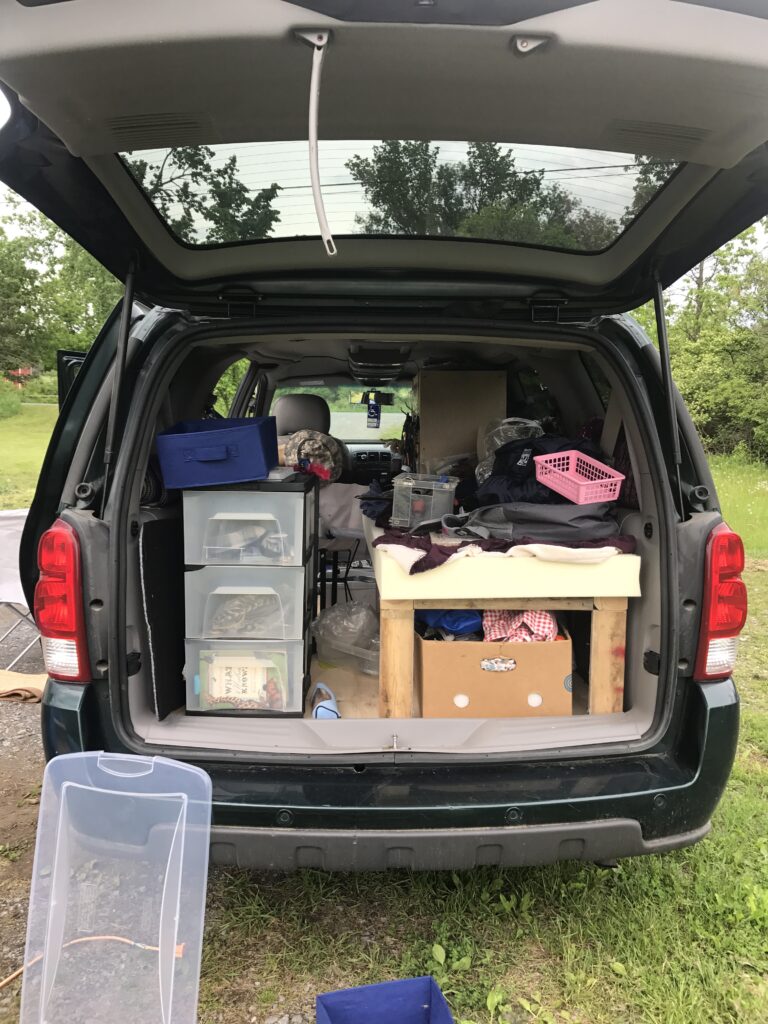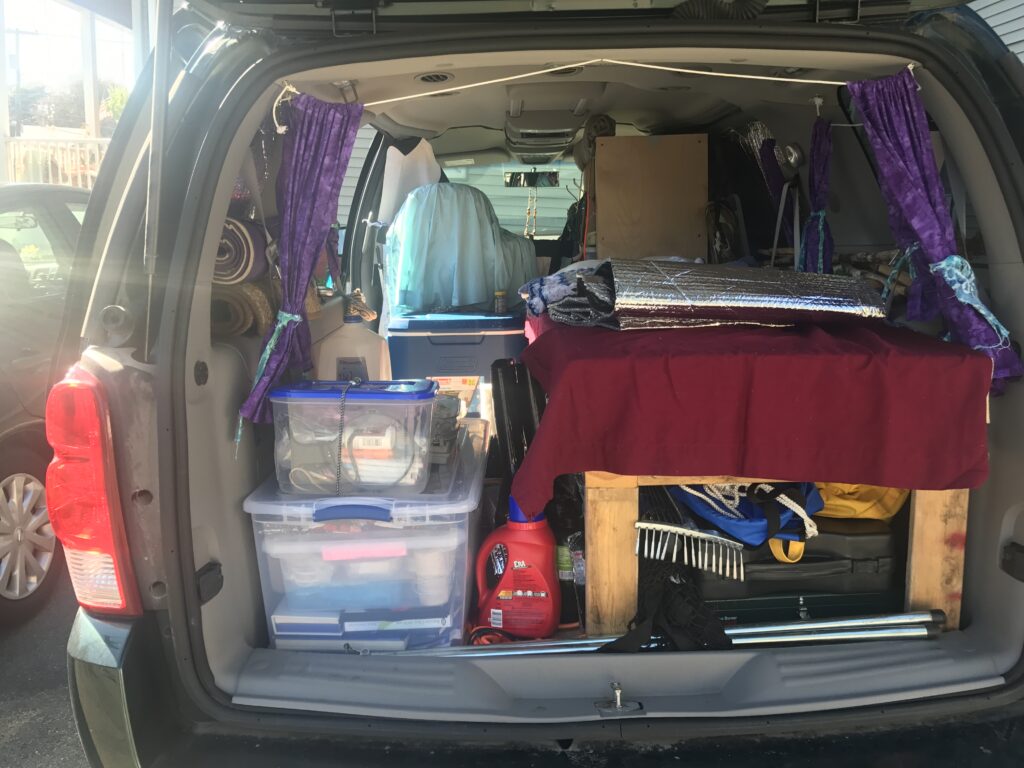 The bed mattress is 6 inches of memory foam, with a sleeping bag folded underneath, and two soft blankets on top. Have you ever heard the fairytale of the princess and the pea? To prove you were really a princess, someone would secretly put a pea under a pile of mattresses for you to sleep on. If you were a real princess, you'd be sensitive enough to feel the pea. That's me.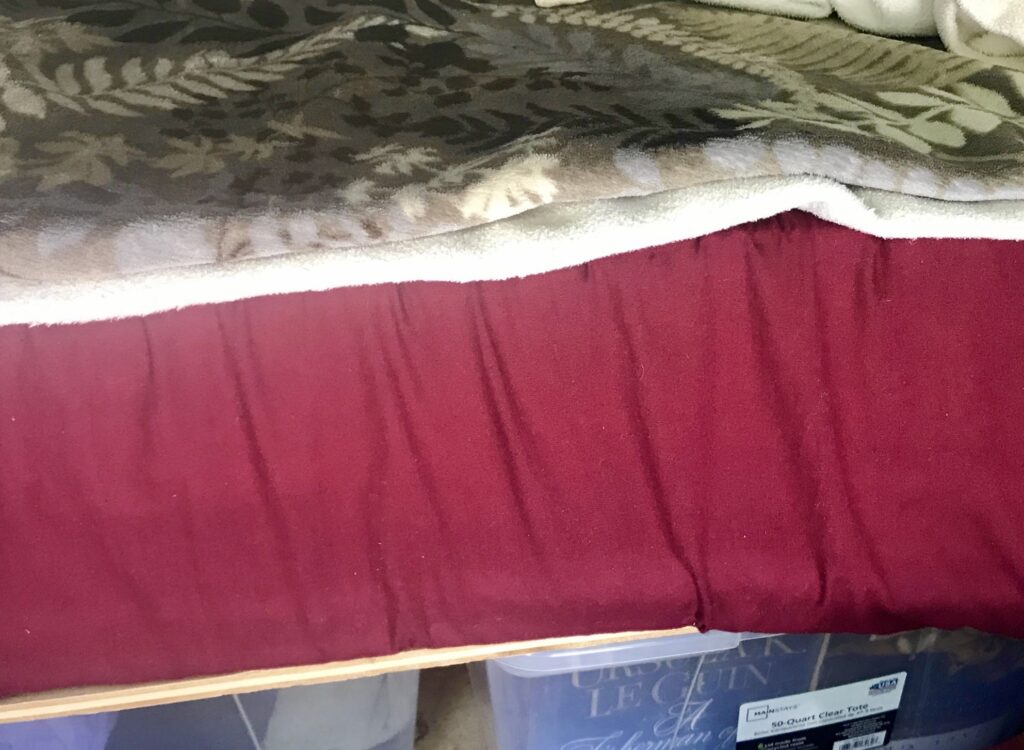 And finally, this is pretty close to what my interior looks like now. The shelving and bed platform is gone, and the bed moved up to the back of the passenger seat. The plywood base for my bed rests on four 50 quart bins. We cut the bed down to about 65 inches, one inch longer than my height. I enjoy the extra storage room, but it's just shy of letting me stretch out all the way. Not a bad set up, but my next investment will be in more sturdy bins, the cheap bins are cracking from moving them in out from under the bed.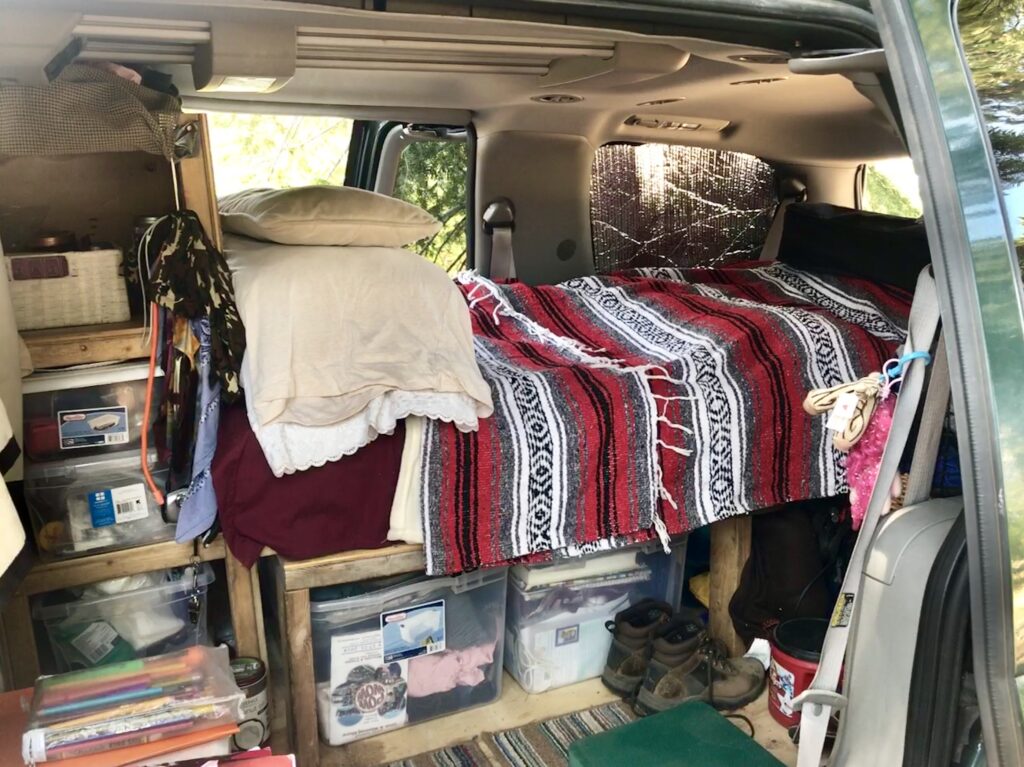 We're both into simplifying our nomadic life so we can enjoy the things we WANT to do, instead of having to spend precious time on fancy set ups that we have to pack, store, and move. We're still simplifying and it seems to work for us.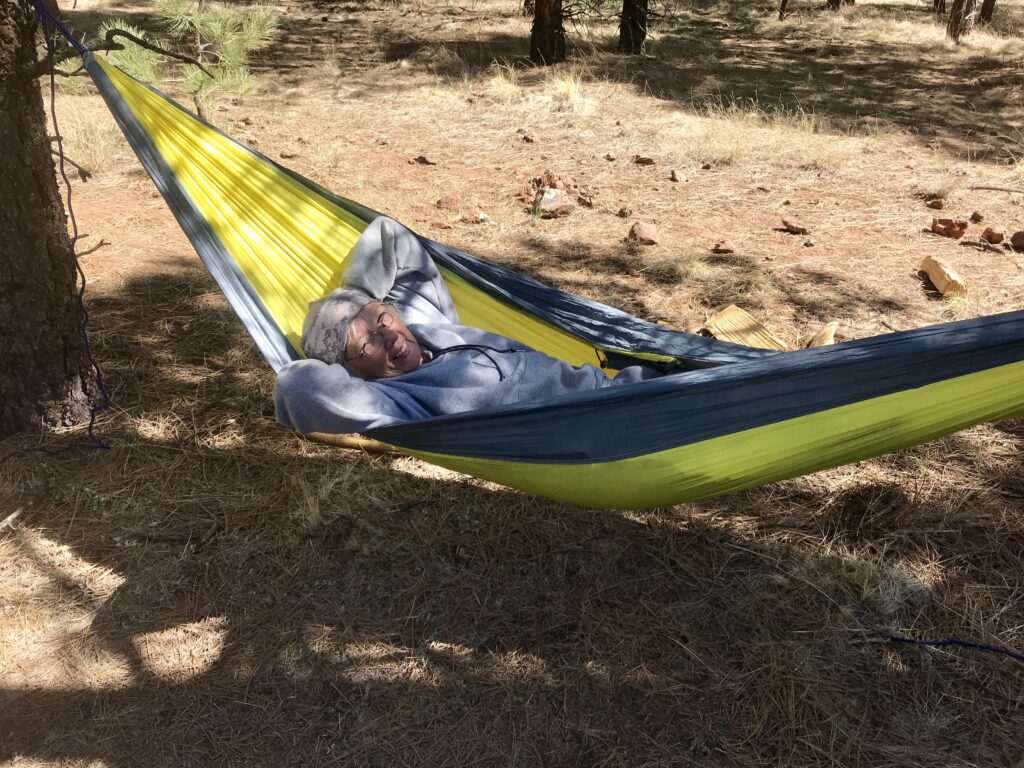 So my van doesn't look like THIS: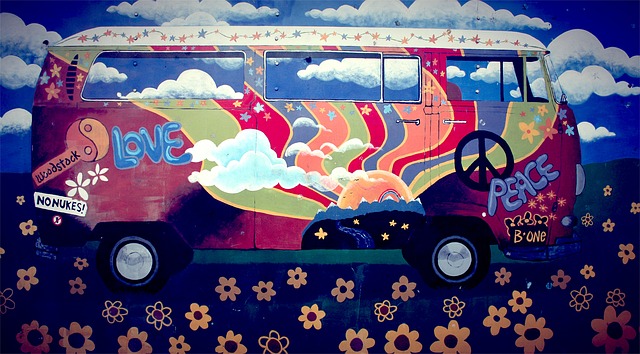 BUT I STILL GET TO DO THIS: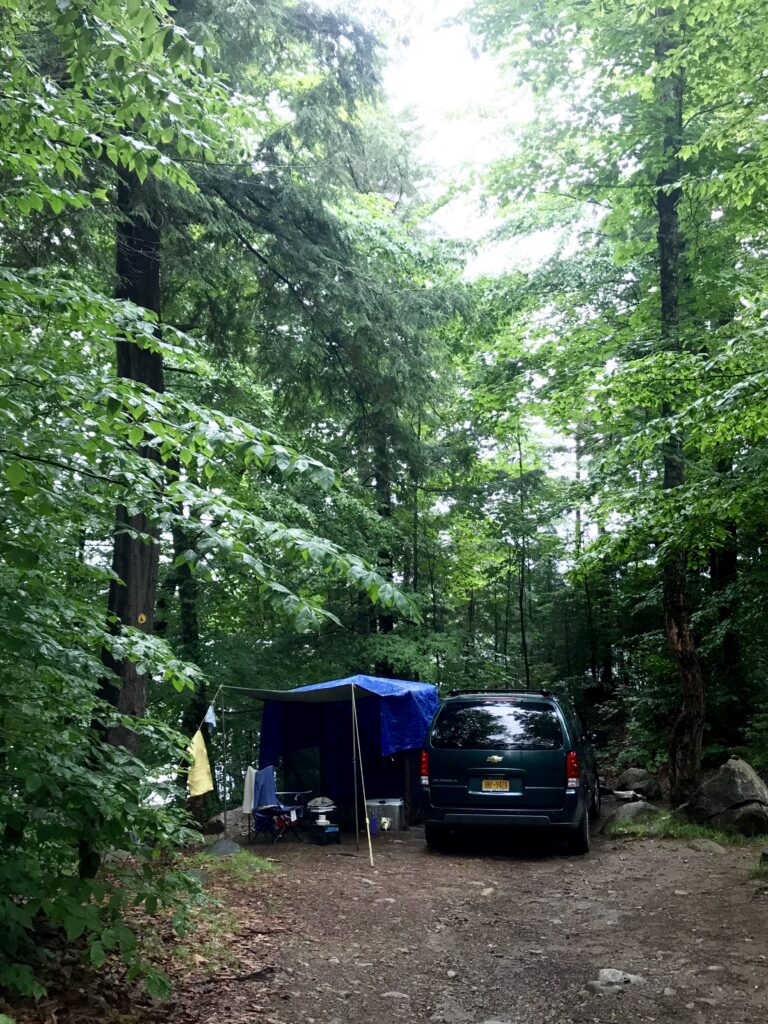 And This: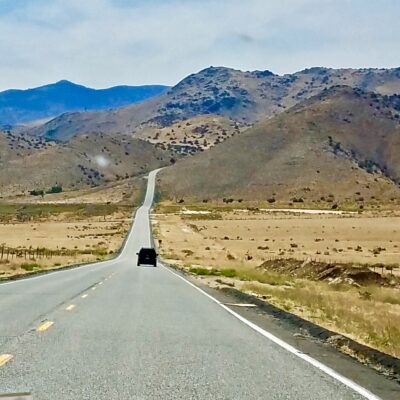 AND THIS!!!